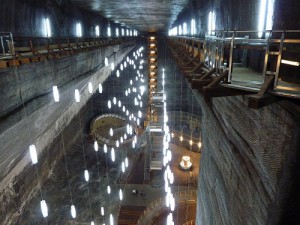 A real museum of salt mining in Transylvania
The salt mine in Turda is now a veritable history museum of salt mining.The excellent state of preservation of mining and machinery used to transport salt, together with the cautious work carried out for prepararing the mine to become a tourist attraction, have made history and legend meet harmoniously here. The increasing number of tourists arriving from distant geographical areas to visit the mine are a confirmation of interest and historical value.
The Salt Mine is certainly the most famous destination for tourists visiting the town of  Turda. This mine dating from the seventeenth century had a decisive factor in the development of this prosperous town from Roman times until today.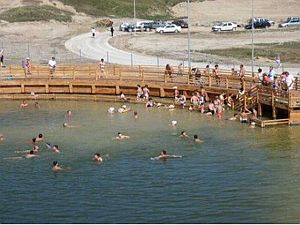 The clean recreational lakes and Durgau-mineralized water are located  near the Salt Valley,  North of Turda. The five lakes were formed by water filling up former collapsed salt mines.
With a long tradition, during the summer, the Durgau lakes formed mineralized salt on old mining sites, offers tourists a wonderful place for recreation and relaxation in a natural setting. For convenience of tourists were sunbathing spaces, sand, wooden pontoons, showers and a bar terrace.
Salina Turda
Acces internet gratuit
Pe aproximativ toata suprafata strandului Durgau, Minei Rudolf si in baza de tratament exista acces internet wi-fi gratuit.